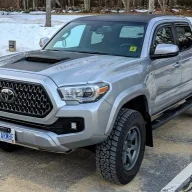 5️⃣ Platinum
Tacoma3G Supporter
Tacoma3G O.G.
T3G Member

#75
Messages

339
Reaction score

471
Location
First Name

Ron
Truck Year

2018
Truck Color

Silver Sky
Truck Grade

Sport
Cab & Bed

Double Cab, Short Bed
Transmission

Automatic
Jan 1: New Truck, build product links. This entry will be updated for each product I install.
Welcome to my progression of idiocy! I know I'm new here, but I'm not a stranger to modifying the cars/trucks I've owned. The last truck was a 2009 Tundra that I gutted the stereo. Then there was the Audi build that I dropped a ton of cash in with a stage 2 tune, exhaust, etc. Before that was the 2000 Tundra that got the treatment as well.
So this may or may not be a really long thread, but I'm going to use it for a record of what I am going to do to this truck. Here it is nice and stock:

I've never had the opportunity to track starting 5 days after receiving a truck, and am going to take advantage of all the great information on this page. Edited 6-25: I'm removing all of the hyper-links to cut the size of this first post down. If you are on this web forum, you should be computer savvy enough to get your Google-Fu on and find the items listed.....
Updated 01/02/2019
Dealer Installed:
Black Step Bars - Toyota PN PT767-35112
AVS Vent Visors
Aesthetic-Functional:
AJT Design Key Fob (cement) - this now sees limited use
Hondo Garage AR15 Bolt Radio Knobs
SR Black Gril Bezel Toyota PN 52711-04010
TuffSkinz Tailgate Inserts (matte black)
Etsy Cell Phone Magnetic Holder
Vehicle OCD Console Organizer
Vehicle OCD Glove Box Organizer
Amazon
Center Console Top Organizer
OEM Bed Mat PN
PT580-35050-SB
OEM Truck Bed Header Rail PN PT278-35100-BH
KB Voodoo Hi-Rise crossbars
Yakima Button Down 6 Ski Rack
MeSo Customs color coded Headlight Trim Plates
MeSo Customs Coin Bucket
Audio-Electronic:
-For Stereo:
Morel Tempo Ultra 692 6x9 component set (front doors & dash)
Morel Tempo Ultra 602 Integra coaxial set (rear doors)
Audison APS 10D 10" Subfoofer
Arc Audio Xdi 850.5 Amp
Mr. Marv Sub Box/Amp Rack
Speed-Wire
10 Gauge Speaker Wire
Metra 70-1761
Harness (for speaker wires)
Metra 71-1761
Harness (for head unit)
Metra 72-8104
Harness (for door speakers)
Noico 80mil Sound deadener
USB/Aux extension (for install into glove box)
-For Charging:
MicTuning USB Power Outlets
-For Towing:
Redarc Tow Pro Elite Tow Brake
Tekonsha Toyota Wiring Harness PN 3017-S
Redarc/Sub Knob/1 Switch Switchplate by forty2skates on Shapeways
-For Starting:
12volt Auto Starter
Lexus Wallet Key Card PN 89904-53511
Lexus Key Blank (for wallet card) PN 69515-30350
-For Camera:
BeatSonic Camera Interface (Anytime Reverse Camera)
BlackVue DR590-1CH Dash Cam
Power Magic Pro
Blendmount for BlackVue dashcam
Lighting:
MeSo Customs Smoked Mirror Turn Signals
Spartan X Customs Scoop Light
Cali Raised LED Fog Pods Kit (with 3x2 18w Amber)
Mall Crawling:
Bilstein 5100 PN 24-263108 (front)
Bilstein 5100 PN 24-186728 (rear)
OME 884 Springs
Rogue Offroad 1-1/2" AAL
HeadStrong 1/4" Spacer (driver side lean mitigation)
Falken Wildpeak A/T3W 265-70-17 Standard Load
Level 8 MK6 Wheels, 17x8", ET0, Gunmetal Gray
TRD Pro Skidplate PN
PTR60-35160
RokBlokz Mudflaps PN 4027-SH (standard size)
Under Hood:
TRD Intake Flow Accelerator PN PTR03-35160-AE
HPS 57-1600 Red Air Intake Hose
Up to date as of 1/02/2019. As it stands today:
Things I'm Thinking About:
Hammock stand attachment for trailer receiver
front camera on demand
Honestly, this may be the cheesiest not-build thread ever, but there will be pictures.....
Last edited: