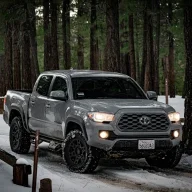 ✓ • Platinum
Tacoma3G Supporter
Messages

159
Upvotes Recieved

321
Location
First Name

Cory
Truck Year

2020
Truck Color

Cement
Truck Grade

Off-Road
Cab & Bed

Double Cab, Short Bed
Transmission

Automatic
T3G Member

#8,496
We weighed our options like that when we were buying. It came down to:

— Knowing we didn't want a hard sided one that is always popped up

— Knowing we want one that pops up fully instead of the ones that only pop up on one side (like a triangle)

— Ruling out a trailer because of 1) off roading and 2) hardee
Right, I didnt like the huge bubble on top of my truck either. It really seemed like the 4WC had it all but.. Too late now! I'll have to live vicariously through you.
Can't you? GrizzlyNbear Overland has something similar (I thought) and then take it out and put it in all the time.


Huh, well! I didn't know. It's not something I see advertised and I thought general consensus was that it wasn't "safe" to operate a camper shell when not in the back of the truck. Then again, I guess that's how they show them off at the dealers. Usually I see wood underneath 'em, though.