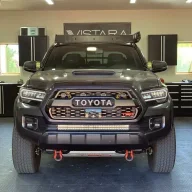 ✓ • Aficionado
Tacoma3G Supporter
Messages

922
Upvotes Recieved

1,335
Location
First Name

Nick
Truck Year

2020
Truck Color

Magnetic Gray
Truck Grade

Pro
Cab & Bed

Double Cab, Short Bed
Transmission

Automatic
T3G Member

#5,704
All the money I've pissed away:
​
Paired my phone - major accomplishment.​

Tint. Not dark enough.​

Hood scoop: Like you fucking wish you had.​

RIPP Coil Packs. Helps me troll the tuners.​

Oil separator because blow by can blow me.​

Hella Sharptones. The kids think they're turbos.​

VLEDS vanity lights and license plate bulbs. Because I can't leave anything alone.​

Interior trim hydrodipped in multicam black.
Makes people believe I killed Bin Laden.​

Pointless raptor lights that you have too.​

Stedi light bar & ditch lights that I don't need and use inappropriately.​

Overland Equipped aux power tray that powers all the shit my wife says I don't need.​

Relentless Fab corner tie-down brackets.
Makes it easier to strap down all the pussy my truck gets.​

KTJO door cup lights. Basically makes my Tacoma a Pagani.​

CBI overland bars to carry the RTT I don't have.​

Meso/KC Cyclone 3rd brake light to flex on other Tacoma owners.​

Prinsu cabrack. Platform for clout on platforms.​

Tailgate anti-theft bracket because of high-seas piracy.​

Multicam black vinyl in allllll the right places.​

Lil B's bed stiffeners: Bed's not the only thing they make stiff.​

Mountain Hatch as proof that I'm the best overlander on the planet.​

Spidertrax spacers. Gets everyone's panties in a twist.​

Ceramic coated every square inch. Hydrophobic as fuck.​

Meso & AJT bullshit. Wish I could 3D print money for all of it.​

Full Victory4x4 interior molle panel offering because I think I'm John Wick.​

Desert Does It seat jackers & MMP's: Neat Seat Feet.​

Mountain bike shifter grip so I can tail whip into Park.​

Expedition Essentials 3TPAM. Damn right you're jealous.​

OEM bed mat. Only thing sliding around here is chicks in my DM's.​

Carista tricks. I'm from the fucking future.​

S-Mode invert harness because I think I'm Sebastian Vettel.​

ARB Diff Breather. Butt snorkel.​

Injen Evo CAI because I'm boujie.​

Garmin dash cam. Footage to be used against me in court.​

Victory4x4 bedside molle panels to turn my bed into a storefront.​

KC Cyclone rock lights. Flex my Fox at night.​

Pelican 1120 under the hood. I keep my weed in there.​

Meso Overhead HexRack. John Wick Chapter 2.​

Dope custom interior switches. Makes you wish they were OEM.​


Proof that I'm a stud and my truck is grey:​
Last edited: