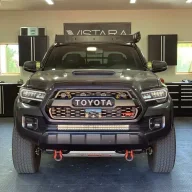 T3G Level: Diamond
T3G Supporter
Messages

558
Location
First Name

Nick
Military

Army (Vet.)
T3G Member

#5,704
I'm Nick. Awake by day, sleeping by night. Detailing is the side-hustle. OEF - Sapper shit. Bought a '20 Pro: Has rubber tires and everything. I mod it. I live beyond my means so don't expect anything crazy.
Did this
​
Paired my phone - major accomplishment.​

Feynlab ceramic coated every square inch.
Hydrophobic as fuck.​

Injen Evo CAI because I'm boujee and I like the sound.​

RIPP Coil Packs. Helps me troll the tuners.​

Oil separator because blow by can blow me.​

Hella Sharptones. The kids think they're turbos.​

VLEDS vanity lights and license plate bulbs
to blind my wife and help the cops.​

Tint. Illegal. Still not dark enough.​

Raptor lights that serve absolutely no purpose whatsoever.​

Stedi light bar & ditch lights that I don't need and use inappropriately.​

Overland Equipped aux power tray that at least
makes it look like I know what I'm doing.​

Meso/KC 3rd brake light to flex on other Tacoma owners.​

KTJO door cup lights. Basically makes my Taco a Maserati.​

CBI overland bars to carry the RTT I don't have.​

Relentless Fab corner tie-down brackets.
Makes it easier to strap down all the pussy my truck gets me.​

Prinsu cabrack. Platform to give me clout on platforms.​

Tailgate anti-theft bracket because of high-seas piracy.​

Multicam black vinyl in allllll the right places.​

Lil B's bed stiffeners: Bed's not the only thing they make stiff.​

Mountain Hatch as proof that I'm the best overlander on the planet.​

Spidertrax spacers. Gets everyone's panties in a twist.​

Interior trim hydrodipped multicam black.
Makes people believe I killed Bin Laden.​

Meso & AJT swag. Chrome go home. Light be bright.​

Victory4x4 console molle panels because I think I'm John Wick.​

Desert Does It seat jackers & MMP's: Neat seat feet.​

Mountain bike shifter grip because I can't leave anything alone.​

Expedition Essentials 3TPAM. Fucking right you're jealous.​

OEM bed mat. Only thing sliding around here is bitches into my DM's.​

Carista tricks. I'm from the fucking future.​

S-Mode invert harness because I think I'm Louis Hamilton.​

Will do this
​
More Meso mods that I don't need but must have.​

Big heavy wheels and fat rubber tires
that will destroy my fuel mileage and require a re-gear.​

RTT to look cool parked outside of a Marriott.​

Boost. Even though my mom says I can't handle the V6.​

More expensive overland gear to never use.​

More cute exterior glitter. For Instagram followers.​

Rock sliders. Not to slide on rocks - to get into truck comfy.​

Fancy bumpers with fancy attachments to do fancy things in fancy places.​

More bright fancy lights to shine into the eyes of oncoming traffic.​

Sick suspension shit to completely negate the purchase of a Pro.​

More things that should have come factory but don't
because Toyota wont stop hiring lame-dick engineers.​

Finally finish the build to my exact specifications
and then sell it because fuck me right.​

Overland Load-out​
| | |
| --- | --- |
| CVT Awning. Keeps my dick in the shade.​ | 36" Gerber Axe. Splits wood and legs.​ |
| SOG Tomahawk because I'm tacti-cool.​ | Woobie and E-Tool. Both stolen from my TA50.​ |
| Krazy Beaver. Do you even overland bro?​ | Pelican V730: Gun case for my gadgets.​ |
| ARB Tred Pro to tred like a pro in my TRD Pro.​ | Jetboil Basecamp. Cookin' up crack in the woods.​ |


Proof that I'm a stud and the truck is grey:​
Last edited: