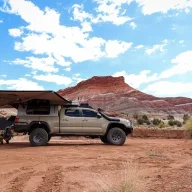 ✓ • Connoisseur
Tacoma3G Supporter
Tacoma3G O.G.
Messages

2,196
Upvotes Recieved

3,058
Location
First Name

Andy
Truck Year

2017
Truck Color

Quicksand
Truck Grade

Off-Road
Cab & Bed

Double Cab, Long Bed
Transmission

Automatic
T3G Member

#184
In case anyone missed it, Magnuson has ramped up it's teasing of the new supercharger. Rumor has been that Tuning the ECU has been a significant hurdle for multiple SC manufacturers. However it appears Magnuson has gotten past that hurdle and is preparing for launch. Videos of TacomaBeast' truck getting the install and the truck running on a dyno have surfaced online and a upcoming YouTube feature are being teased.
The kit is now also back up and listed as coming soon on Magnuson's site. Pricing is listed at $6,565 for a claimed 30% power gain.
https://www.magnusonsuperchargers.com/product-p/01-19-35-005-bl.htm
There are also a number of videos up in TacomaBeast' IG story, but those will disappear soon obviously.
http://instagr.am/p/CDSOoGJH3Wz/
Original link: https://www.instagram.com/p/CDSOoGJH3Wz/?utm_source=ig_web_copy_link
Currently their are 4 options in the works for forced induction for the 3rd gen Tacoma. 1 Twin Turbo Kit from Orange Virus Tuning which is currently shipping the first batch to customers. and 3 Superchargers, all still in development. Magnuson, Harrop, and URD. Magnuson now appears to be the closest now to releasing a SC for the 3rd Gen.
So, who's interested and considering picking up Magnuson's new kit? I am, as it will likely be the only one that is CARB legal, so my options are limited. I will say, OV's TT kit looks pretty amazing as well. Thoughts?
Here's some videos of OV's TT kit in testing....
Original link: https://youtu.be/Jug8Ah0C1Rk
Original link: https://youtu.be/iL1j0DjX0zY
Original link: https://youtu.be/L7ZFc_6CTGE