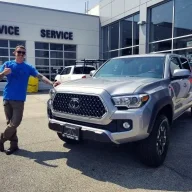 Messages

21
Upvotes Recieved

23
Location
First Name

James
Truck Year

2018
Truck Color

Silver Sky
Truck Grade

Off-Road
Cab & Bed

Double Cab, Long Bed
Transmission

Automatic
T3G Member

#987
Tacoma3g Members,

As some have seen on here I have been eagerly awaiting the fulfillment of an order made from CBi for Rock sliders that were placed in September of 2018. Since we don't have a vendor review section, I feel this would be the best place to post.. Here's the short story that I will continue to update as I go.
-Slider's Ordered September 2018
-Received an invoice promising ship date of Late November.
-First of December I wrote three separate e-mails over two weeks inquiring on the status. I am Active Duty and could not call due to dep/op.
-Finally called Mid December and talked to their service rep who informed me they ran into an issue with their tube bender and my order was pushed a month. Well, manufacturing issues happen, I got a new date of first week in January. There were no response to e-mails as of date.

Mid January 2019, still no word. Called and talked to Kenny, who told me that my sliders were the next in line and would be built that day, at the latest the following morning and I would be receiving a shipping notification.
-Week Later, no update or shipping, e-mailed customer service. Week later, followed up with another e-mail.
-Few Days later, still no response so I called again: They told me this time that my sliders were the first in line of the next production run, but they had a full run of DOM sliders ahead of me, and had no response to why I was promised mine would be built 'that day' and no-effort was made to make anything right.

So...
-Here I am, 02FEB19 and still no update, or shipping. $1k slider set still sitting in cue, and I will update these as things progress and change. Once again, $1,000.00 dollars down, 5 months later on a 6-8 week production promise. Not impressed. I am part of a big offroad community in the PNW and already had three mates drop orders from CBi over watching my issues... lets get this fixed.