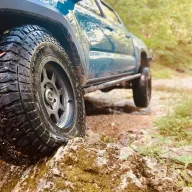 T3G Level: Diamond
T3G Supporter
Messages

435
First Name

Rich
Military

Army
T3G Member

#5,074
Folks
Teamed up with
Toro Offroad
to offer y'all a special code for 10% off their RTT
Code is
OVERLAND2020
this gets you
10% off
Your total will be 3k. Out the door. Shipped. With an awning and annex. This is one hell of a deal. I'm actually meeting with the guys next week and will provide my own pictures and review of the tent then. In the mean time, they have delivered product and have gotten no negative feedback since joining the RTT scene.
Check it out here —>
https://torro-offroad.com/products/skylux-rooftop-tent
You can sleep 4 people comfortably in a tent designed to hold up to 900 lbs. Even if you're 7 ft tall you'll have 3+ inches of extra mattress space available at length.
The large quilted high density foam mattress will lull you into the best sleep you've ever had under the stars. Its 2" thick because that's all it needs to recover quickly and support your weight properly. Some mattresses are thick but not high density which means you might still feel the bottom/tent floor when you lay or sit on it - thats not the case here.
SkyLux Tents are rated for near-gale force winds (35+ mph), so you have the comfort of knowing you're safe even when the weather starts to make you doubt it. You'll also be provided aluminum stents that slip over the strusts to help prevent the hard shell from closing, in the event of winds greater than 35 - 40 MPH.
Our upgraded Aluminum Telescoping Ladder features quick release latches and can itself hold up to 300 lbs. The ladder is 8.5 ft. tall when fully extended. Unlike other RTT brands, with SkyLux there's no need to purchase a ladder extension. You only have one set of latches to extend or retract the ladder which makes setup and take down so much easier. This is a feature you'll only see on the SkyLux RTT.
I just priced this out with this post
Last edited: