5️⃣ Platinum
Tacoma3G Supporter
Tacoma3G O.G.
Local time

1:59 PM
Messages

339
Reaction score

471
Okay folks. This is the Subaru tweeter by Kicker thread. This is a drop in, plug & play tweeter upgrade for
Entune Premium, non JBL
sound systems in the third gen Tacoma. I can only verify that it works in the non JBL. The JBL systems have a different connection.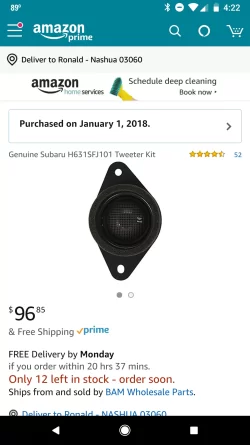 Genuine Subaru H631SFJ101 Tweeter Kit
https://www.amazon.com/dp/B00PV6F8I2/?tag=tacoma3g-20
This is hands down one of the best sound upgrades you can do to the
Entune Premium non-JBL
system.
To install, it takes about 10 minutes per side. Removing the A pillars makes the process easy (and is necessary on the passenger side, or YOU WILL break a clip on the tweeter covers).
I do not know if it works on non premium units.