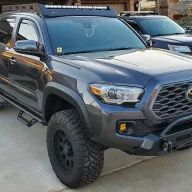 T3G Level: Bronze
T3G Supporter
Messages

60
T3G Member

#5,869
I've seen a lot of pictures of peoples rigs on social media and have seen people using plano or pelican gun cases (or similar) on top of roof racks.

Several questions...
1) What are you storing in yours?
2) What brand cases are you choosing?
3) How are you mounting these to your roof racks? I have a Victory4x4 roof rack and trying to figure out what to do before I start purchasing stuff.

Thanks in advance!