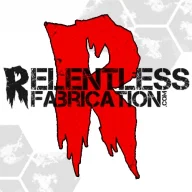 relentlessfabrication.com
T3G Vendor (Onyx)
Messages

168
Location
First Name

Relentless
T3G Member

#849
Its a well known fact that the tail gates on the 2nd generation Tacomas were weak and bent easily under even moderate load which led to our original reinforcement. Toyota learned a bit from their mistake and increased the strength of the 2016+ tailgate a bit, but it still lacks inner structure and the rough ribbed plastic panel is hard on the knees when accessing the bed plus makes for a terribly awkward surface to place items on.
Our panel not only adds strength to reinforce your tailgate, but the flat surface makes for a much more ideal platform to set things on like grill's, stoves, or your favorite beverage while camping or hanging out at the lake for an afternoon.
We're the original reinforcement on the market, we've been making them since 2010, lots have tried to imitate or copy over the years but our 1-piece panels are never quite matched in design or quality. Our tail gate reinforcement plates are CNC cut and then precision formed on a CNC press brake for a tight factory-like fit with just a little room where necessary. The end result is a more solid feeling and slightly heavier tail gate that is much stronger, and leaves the user with little worry of bending it under the most common loads. Don't fall for the completely flat or ribbed 2-piece plates from some of our competitors. The one piece design with multiple formed edges add far more rigidity and strength to the part while still offering a handy work surface!
AVAILABLE HERE
Install:
Easily mounts with factory screws, though we do recommend purchasing 8x) PN 90166-60003 screws for a more flush fit to replace the upper shouldered screws. Required install tools are only a torx bit for the screws holding the cover on.
Please note that these reinforcement plates are formed from sheet metal and therefore are not as thick as the factory molded plastic cap, tonneau covers and canopies may not seal the same as they did with the factory cap and adjustments are likely necessary to those seals