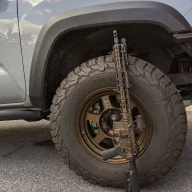 7️⃣ Connoisseur
Tacoma3G Supporter
Tacoma3G O.G.
Messages

1,183
Reaction score

2,039
Location
First Name

Chris
Truck Year

2019
Truck Color

Cement
Truck Grade

Off-Road
Build Thread
T3G Member

#2,531
Usually go to a place down in Portage, PA called Kick's. My Dad's been using them for years, and they seem to do a good job.

Hell if I know, to be honest. But the lift rides nicely after the alignment. What makes you think any of the other's are doing a bad job? Are you just looking at the wear long term?
The one time the shop was saying something about the truck was too new that the factory default presets weren't in the alignment machines system. No idea. I said just do it off previous models. They didn't have those either. In my mind, I figured alignments should just be done base on the actual physical configuration. Drove fine but after a few rotations I ended up with some uneven tire wear. Don't have much confidence in that place anymore.
Dealership, I don't like them from personal experience. Been horrible. Even had to go back because it was pulling. They kept telling me it wasn't. Had to get the Service Manager to drive it and he confirmed it was definitely pulling.
4WP, was fine, just feel like I overpaid. They do some dumb policy shit. I understand liability and stuff. I say I'll sign a waive or whatever acknowledging I accept all responsibility for whatever happens. They don't want to touch it if it's rubbing. It was rubbing on the fender liner slightly. It took a good amount of convincing to just get my tires mounted. Had to talk them into just removing the spacers. Still rubbed a little and they were talking about putting the old tires back on. It was silly and further of a drive.