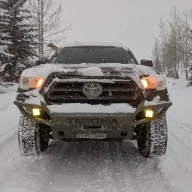 ✓ • Gold
Tacoma3G Supporter
Messages

213
Upvotes Recieved

211
Location
First Name

Rob
Truck Year

2020
Truck Color

Magnetic Gray
Truck Grade

SR
Cab & Bed

Double Cab, Short Bed
Transmission

Automatic
T3G Member

#6,720
Had someone run a shuttle for me on a raft trip (anyone remember Deliverence?)
They must have rallied the 3rd gen pretty hard.
The camber on one wheel is out visibly, the spc bolt has moved in it's slot.
Is there anything other than 150 ft lbs of torque that can help keep it in place?
Who knows what else is moved or bent.
The steering wheel points at 1:30 now.

I could tell the dude was shitting and getting.
I filled the tank beft I left the truck.
Average milage for his shuttle was 10.3 mpg.
Last edited: