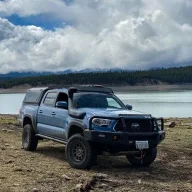 T3G Level: Bronze
T3G Supporter
Messages

34
Location
First Name

Jake
T3G Member

#5,559
trying to dive into learning More about simple CB setups and would love some insight on anything you personally use or have used...
I went on a run with a guy a few months back and he let me borrow his midland setup that just plugged into the cigarette lighter and ran a cable to a magnetic whip.
I get that they are minimal on distance but I'll really only ever use it when I'm a group and need to communicate. Are there other options for "temporary" use applications ?
I shy away from a permanent install because I feel like there is so little room in the cab to begin with ... so maybe second thought does anyone have any stealthy / clever mounting placements for a more permanent solution ?
Open to any ideas and just don't know really anyone who has had experience with this stuff to ask !
Thanks in advance