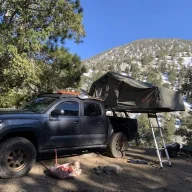 Messages

5
Upvotes Recieved

3
First Name

Carlos
T3G Member

#8,322
I'm in the market for a system storage in the back of my 5ft bed. I mainly want it for camping gear/some recovery/clothes. I have looked at making a custom storage system with wood, but since I don't run my tonneau cover when I go camping, I am worried about it holding up against the rain/snow and other elements. I've seen a truck vault bed system which allows you to run a shorter in height storage system compared Decked to allow more use of your bed, but unfortunately that is way out of my price range.

Anyone with the decked system, can you give your experiences or modifications you had to do in order for it to fit your needs? Also, are you able to run half of the unit, so if you need to, you still can use the other side your bed? Do you regret it?

Anyone running a custom wood or other material storage system? Do you wish you would have went with a decked system or are you happy with your current set up?

All feed back or questions is highly appreciated!

thank you!
Last edited: