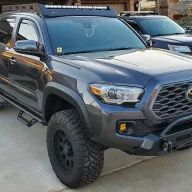 T3G Level: Bronze
T3G Supporter
Messages

61
T3G Member

#5,869
Has anyone built their own "decked" systems or need drawers?

I'm trying to draw out specs to build one because I don't want to spend a $1000 on a decked system. But I'm going back on forth on whether to use mostly wood or try to use a steel or aluminum frame.

I also don't have a topper or tonneau cover yet so it would be exposed to elements (rain/snow/etc). Any suggestions?