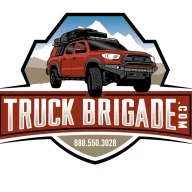 truckbrigade.com
Authorized Vendor
Tacoma3G Supporter
Messages

76
Upvotes Recieved

98
First Name

Ryan & TJ
T3G Member

#2,412
Hi Guys,
We have been authorized to offer
5% off all Leitner Designs
products for a limited time.
Leitner Designs is one of the most well-respected names in the industry offering their legendary Active Cargo System Bed Rack and numerous accessories that work flawlessly with the system such as the Gear Pod and Gear Pod XL. If you have not heard of these guys I am sure there are some folks here who can attest to the quality of their products. One of the other great benefits of Leitner Designs products is that in stock items (which is nearly everything) ship same or next day. There is no waiting 8-16 weeks for a bed rack with these guys.
Truck Brigade has become a leading dealer for Leitner Designs and offers free shipping on every order! This free shipping paired with an extra 5% off is a great way to save some coin if you are in the market for Leitner Products.
For a listing of all the Leitner Designs products we carry:
Leitner Designs Active Cargo Systems and Accessories
Please don't hesitate to reach out to us with any questions you might have. We are here for you.