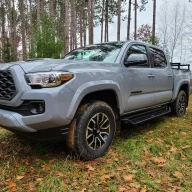 T3G Level: Bronze
T3G Supporter
Messages

15
Military

Army (Vet.)
T3G Member

#6,118
Has anyone here used these for a RTT?
https://www.yakima.com/bedrock-hd-system
I really want something I can easily take off with the RTT when it is not in use. I've looked at several other systems and have gone through several posts but haven't seen these in use. I am planning on a tonneau cover soon and I would have to roll or flip for these.
SOS advised that they are working on one for a tonneau.
Any help or suggestions would be great.