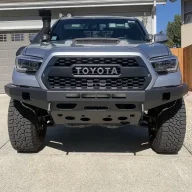 ✓ • Diamond
Tacoma3G O.G.
Messages

361
Upvotes Recieved

514
Location
First Name

Adrian
Truck Year

2017
Truck Color

Silver Sky
Truck Grade

Off-Road
Cab & Bed

Double Cab, Long Bed
Transmission

Automatic
T3G Member

#3
As per trails we embark on. I believe we should collaboratively create trail reviews for other members to possibly go on as well. lets start with simple needs.
- Location of trail.
- State whether 4x4 is required to do the trail.
- Difficulty rating
Easy
,
Moderate
,
Hard
(use your best judgement)
- If any items would possibly be needed. (depending on road conditions)
- Your personal overall view of this particular trail.
- POST PICTURES OF CONDITIONS TO WARN OTHERS if necessary.
REMEMBER IF YOU ARE GOING TO ISOLATED AREAS WITHOUT CELL PHONE SERVICE, HAVE RECOVERY TOOLS I.E. MAXTRACS, SHOVELS,& JACKS.
(if you get stuck)
- Always have a
map
of the area you are in.
- Carry a GPS watch
- Never wheel alone. at least one other vehicle with you.
- Carry 5 gallons of water per person.
- Pack plenty of food that won't go bad right away.
- Tell someone your plan. and if you don't get in contact with them at a certain time. have them contact authorities and let them know of your last known location. ( 8-10
digit grids help a lot)
I know there's quite a bit i missed but I will edit and add more to this post. suggestions are welcome. - Catfish