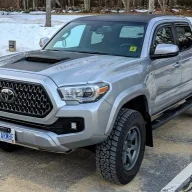 ✓ • Platinum
Tacoma3G Supporter
Tacoma3G O.G.
Messages

339
Upvotes Recieved

444
Location
First Name

Ron
Truck Year

2018
Truck Color

Silver Sky
Truck Grade

Sport
Cab & Bed

Double Cab, Short Bed
Transmission

Automatic
T3G Member

#75
Anyone else here hammock camp? I started a couple of years ago with a Grand Trunk Skeeter Beater, a regular tarp and a sleeping bag. I graduated to a Hammeck Netty, KAQ New River under quilt and KAQ Owahee top quilt and a cheap rain fly. Now I am running this set up:
Hammock: Dutchware Chameleon 11'
Under Quilt: Arrowhead Equipment New River
Top Quilt: Arrowhead Equipment White Cloud
Tarp: UGQ Penny Pincher 12'
This weekend I am camping with my scout troop at the NH Jamboree, and refuse to sleep on the ground, so I made this:
This stand is made from 6 6 foot lengths of 1-3/8" fence top rail, some L brackets, a 18" section of 1-1/2" top rail as a joiner for the top, a couple of end caps and some amsteel loops.
What are you all running?