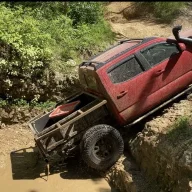 T3G Level: Diamond
Moderator
T3G Supporter
Messages

704
Location
First Name

Jason
Military

Army
T3G #

2,122
First off, I didn't take enough pics, but if you have questions feel free to ask.
You can purchase this snorkel kit for $285 shipped from solflobumpers.
-First off, I took the included template and masking taped it to the truck.
*note the front and top of template. The front where it will line up with the fender, with the curve of fender. Also, top will be a section where it "bumps out" (there is some lettering on it)
-Line curved section of template with fender and top section with edge of fender. Tape in place and adjust as necessary to get it as close as possible.
-Fitted snorkel with included hardware (was missing 1 bolt but I had one)
-I took masking tape and put it behind the bolt holes that will be drilled as well as entire section of hole for snorkel, while template was on truck
**The reason for this, why I did it this way, is to not have to put marks on the fender it's self if anything needed to be adjusted.
-Peel tape and install new tape to mark hole locations again
-Mark lines for cutout and bolt hole locations
-Remove inner fender lining, be careful not to break all the clips. If you do replace them or will have issues with it flopping around. There is 10mm screws and snap fasteners
-Remove template
Measure twice cut/ drill once!
-I then took my Dremel with cut off wheel and cutout hole for snorkel
-Take a punch and center your holes to keep the drill bit from wondering away from desired location
-Drill holes for snorkel mount with 3/8 drill bit (can use smaller I used larger to be able to adjust the fit. Backside will be using a large washer anyway)
-Test fit snorkel to fender, making sure the curves of the snorkel fit the curve of the fender
-Take masking tape to cover a pillar where top bracket will be located, mark with sharpie on masking tape
-Using punch, center holes of bracket hardware location
-Drill holes for top bracket
-Test fit snorkel again, if it all fits to your liking, set to side and open hood
-Remove lid from air box (I used a bungee cord to hold it out of my way and I didn't disconnect the mass air flow)
-Remove 3 bolts holding air box in
-Remove adaptor through fender on air box (snaps on, pry back the locks and it comes right off)
-Trim pieces of plastic sticking up on outlet tube of air box
-Install supplied silicone air tube adaptor with the supplied hose clamps, 1 under hood and 1 under fender and push adaptor through fender, it has a lip on it where is pretty much snaps into the fender to hold itself
-Install snorkel with supplied hardware, using washers and nylon lock nuts, finger tighten all nuts to ensure you can move it as needed.
-Make sure to slide snorkel tube onto silicone adaptor before mounting
-Once happy with location and fitment, start tightening down each nut. I started with the easiest and went to harder to reach ones. Went back through to double check them all twice
-Tighten down silicone adaptor onto snorkel tube, wiggle the adaptor as needed to set tight against flange on snorkel
-Fasten top part of snorkel to top bracket. May have to adjust angle of bracket, as mine was not the right degree and pushed top of snorkel out to far
-Install air box, sliding the adaptor onto outlet tube of air box
-Fasten air box, install filter, close lid of air box
-Install inner fender lining
-Install snorkel cap with supplied hose clamp
*I put a stainless steel screw in mine to make sure it can't be ripped off or stolen
I may have done with out of order from how others would do it but mine turned out great and is a lot easier than expected. Hardest part is the cutting, finding what tool to use. I have grinder with cutoff wheel, too big. Jigsaw, was afraid it would shake the fender to much and possibly cause damage. Ended up using a Dremel with cutoff and it worked perfect.
If you have any questions feel free to ask. Sorry if my explanation is all out of wack.