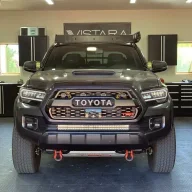 ✓ • Aficionado
Rig of the Month
Tacoma3G Supporter
Messages

1,005
Upvotes Recieved

1,593
Location
First Name

Nick
Truck Year

2020
Truck Color

Magnetic Gray
Truck Grade

Pro
Cab & Bed

Double Cab, Short Bed
Transmission

Automatic
T3G Member

#5,704
It's high time they stop working on YouTube views and start working on actually being an online retailer.

May of last year I bought Lil B's bed stiffeners from R4T the same day I received an in stock notification - only to receive an email 3 days later saying they were out of stock until the upcoming Thursday. Annoying, but no big deal. Until I follow up that Friday asking for a tracking number - 2 days later I get a response saying the item hasn't been shipped out of their warehouse. 3 weeks later I get them and still paid full boat for shipping. Zero fucks given from R4T.

Saturday I order some RR7-H wheels from them. Chose to order from R4T and not from Relations Race Wheels directly because R4T showed they were in stock on the aluminum protection rings - whereas RRW had 5 wheels in stock but no rings at the time.

Then again, 2 days later I get a notification from R4T that they are out of stock on the wheels. To make matters worse, the 5 that were in stock at RRW are now gone. Then they have the audacity to ask me if I want my order cancelled and my money refunded. Like what the fuck else are you going to do? You want me to let you keep the money as a reward for sucking? No shit refund my money.

So all I get out of the deal is my time wasted - again, and the joy of having my email sold to their 3rd party tracking system so they can continue to spam me for tracking of an item I'm not going to receive. I also get to wait until these wheels come back in stock to also pay full price for them because they were a pre-order promo.

Twats.