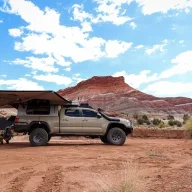 8️⃣ Paragon
Tacoma3G Supporter
Tacoma3G O.G.
Authorized VF Tuner
T3G Member

#184
Messages

2,292
Reaction score

3,268
Location
First Name

Andy
Truck Year

2017
Truck Color

Quicksand
Truck Grade

Off-Road
Cab & Bed

Double Cab, Long Bed
Transmission

Automatic
Instagram
YouTube
The Tacoma3G crew is proud to announce we are starting up a bi-weekly get together (gtg) to be held in San Diego, CA every Tuesday of the month!

The Southern California scene is booming and T3G decided it was time San Diego had a regular midweek gtg. While we have some larger events in the works, this will be a low key weekly event for T3G members to meet up with new people, hang out, and talk trucks. T3G wants to do something that doesn't have to be on weekends and doesn't have to be a big fuss. If you miss a week, no worries!! Cruise on out to the next one! The gtg is open to other Tacoma and Yota generations and models so feel free to invite your friend in that dope Land Cruiser, 4Runner, or Tundra
. So come on out, meet new people, talk about trucks, and just have a good time as we grow the SD T3G community!!

Next SD T3G GTG details:
On hold until safe to resume.
Time: 7pm until whenever
This weeks gtg will be located at:
2670-2798 Cushing Road
San Diego, CA
@ Liberty Station NTC
The meet this Tuesday will be located in the lot at Liberty Station/NTC.
Access is easy off the 8/5 freeways.
Just a couple ground rules to ensure we don't burn the location. We want to be good representatives of the offroad and automotive enthusiast communities and ensure we are welcomed back by the businesses located where we meet.

1. Absolutely NO burnouts, no mall crawling, no showing off etc. Keep that stuff in the desert and offroad.
2. No loud music
3. Be polite to the public and the businesses in the area.
4. No littering
5. No drugs/alcohol in the lot. Shouldn't have to say it but I will.
6. Patronize the businesses in the area where possible

There's always that guy that acts like an ass and ruins it for everyone. Don't be that guy.

The rules are meant as a way to keep the gtgs going week after week, not as a way to ruin all the fun. So don't take them personal.

See you Tuesday!!
Last edited: