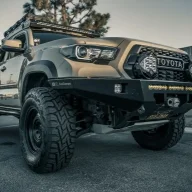 Messages

1,336
Location
T3G Member

#112
***PARKING UPDATE... PARK ONLY IN GREEN AREA!!! DO NOT PARK ACROSS THE STREET AS YOU MAY GET TOWED!!!***
Hi all,
I'm excited to be hosting this meet on Oct 12. 10am to 1pm
Free Tacos served 11am-noon
Free ice cream bars from Archies Ice Cream
Free Jeep toys to kids
Free Swag
Raffle prizes totaling over $1000 (1 free tix to each rig owner) + additional tix for sale (includes RDM Pros patch or keytag)
Please note we don't know how big the attendance will be... so it's 'while supplies last'
Hope to you see you all there! I'm making a HUGE announcement!
I put this as a facebook event and you can also follow my instagram too
View: https://www.facebook.com/events/482782515616194/
Last edited: