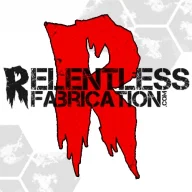 relentlessfabrication.com
T3G Vendor (Onyx)
Messages

168
Location
First Name

Relentless
T3G Member

#849
Here is the fourth deal of the week - Thursday Deal!
* This one is for Colorado Owners so if you have friends or family that wants to keep up with you in your Tacoma mention it to them!

** Stay with us Tacoma owners...We've got something for Friday that everyone is going to like.
*** Please note that this offer will go live tonight at 12am Pacific and run through tomorrow night at 11:59pm Pacific.
**** Our deals of the day will run Monday, December 16th through Friday, December 20th.
$150 Off all Colorado ZR2 Front bumpers! (excludes non ZR2 bumpers)
Click here to check them out
Just enter promo code "150Off" at checkout to save $150!
Relentless Fabrication
www.relentlessfabrication.com