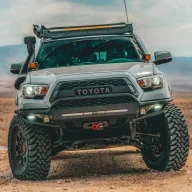 ✓ • Aficionado
Tacoma3G Supporter
Tacoma3G O.G.
Messages

821
Upvotes Recieved

1,404
Truck Year

2017
Truck Color

Cement
Truck Grade

Pro
Cab & Bed

Double Cab, Short Bed
Transmission

Automatic
T3G Member

#15
Hey everyone,
I have come up with a few ideas for our next meet, ill be scouting locations, and wanted to get a census as far as where YOU would like to see
the next T3G meetup. The next meetup ideas are in the poll so please drop a vote and let me know. I want to plan a lot with you guys and if you have ideas please
share them as well. Ill keep this thread stickied and will be changing the poll after each meetup. I will also be planning meetups well in advance so that everyone
has ample time to plan for them if you would like to participate.
Also, if anyone wants to meetup when im out scouting areas ill never turn you down!
Here are the next meetup ideas i have planned. Let me know what you think!
Iron Lakes:
SandStone Canyon:
Seven Teacups: