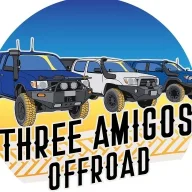 T3G Level: Bronze
Authorized Vendor
T3G Supporter
Messages

8
Location
First Name

Dan Griffin
T3G Member

#4,094
In 2 days, your skill sets will expand exponentially as you learn what your vehicle is capable of while you develop confidence in the vehicle and yourself while improving your Situational Awareness, Mechanical Sympathy and vehicle handling all through the experiential learning and education of Three Amigos Off-road.
Learn to control Bump Steer, drive up and down steep hills, washes, big (and little) rocks and ledges, mud and loose terrain and off camber, all while learning the correct terminology, techniques and other technical aspects of 4wd vehicle operation. Have fun working on Stuck Assessment and then practice getting your vehicle unstuck with newly found recovery skills. Or, refresh your memory and reinforce those rusty skills, out with the old and in with the new.
We will cover all aspects of terrain, drivetrain terminology and technology (including suspensions, lockers, tires, etc.), navigation, recovery (winch, Hi-Lift Jack, straps, X-Lock, Maxtrax & Pull-Pal) methods, vehicle preparation, personal preparation (short and long trips), what gear and equipment to carry and how to stay safe on the back roads while treading lightly though and in the back country.
BOOK online at
https://www.threeamigosoffroad.com/
Last edited: