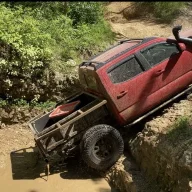 7️⃣ Connoisseur
Tacoma3G Supporter
Tacoma3G O.G.
T3G Member

#2,122
Messages

2,060
Reaction score

2,479
Location
First Name

Jason
Instagram
YouTube
2018 Barcelona Red SR5 Double Cab, Short Bed Automatic
Picked up my first Tacoma a few months ago. 2018 SR5 in Barcelona red. Took it right off the show room floor ?. I've had jeeps in the past and to be honest I plan on taking it offroad sometime. Might not be too crazy for some of you but a 30k truck, wife will definitely be frowning lol.
I bought the SR5 after looking at the TRDs and the price difference was not logical to me since, I plan on doing the same exact things with proven aftermarket parts, for less money! I hope I am not wrong there. To me building it will be more fun than buying it off the lot.
Eventually I'll lift it and put some aggressive tires on it and take it off road. Trying to wear off the newness first. Someone hit the truck month ago, so it will have a new steel rear bumper the first of the year!