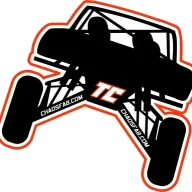 chaosfab.com
Authorized Vendor
Tacoma3G O.G.
T3G Member

#518
Messages

238
Reaction score

383
Instagram

Welcome to TOTAL CHAOS,
New to the forums, but not Toyotas, we at TOTAL CHAOS specialize in suspension components for Toyota Trucks & SUVs. For more than 25 years we have been off-roading: participating as racers, chasers, spectators, weekend warriors, customers, and manufacturer. Over this time we have seen the industry progress with products and designs along with components and technology. Our commitment to customer service and building the highest quality, bolt-on TOYOTA suspension systems and accessories has escalated TOTAL CHAOS to a level of global racing recognition. TC parts are currently adventuring and exploring off-road trails and rally racing on every continent except Antarctica.
The fabrication specialists at TOTAL CHAOS pride themselves on manufacturing only the highest quality handcrafted parts. TEAM TC is dedicated to constant innovation. Several of our concepts have been industry breakthroughs, and our designs can be seen imitated by several manufacturers.
TOTAL CHAOS suspension systems and accessories along with components we supply are backed by integrity through our chosen list of vendors and authorized distributors. We know as a customer the reliability and dependability of your parts determines your enjoyment on the trail; whether it's off-road adventure expeditions, pre-running, racing, rock crawling, or just taking a trip with the family, "HAPPY TRAILS"...and we will SEE YOU IN THE DIRT!
Sincerely,
TEAM TC
WWW.CHAOSFAB.COM
VIDEO:

Last edited: