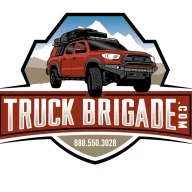 truckbrigade.com
T3G Vendor (Onyx)
T3G Supporter
Messages

76
First Name

Ryan & TJ
T3G Member

#2,412
Hi Guys,
I realize we have been a little MIA. Not to worry though as we have been adding a ton of new brands to our newly launched site.
Some of these brands include:
Victory 4x4 - Roof racks, armor, and accessories.
Mountain Hatch - Tailgate inserts for every adventure.
ROAM Adventure Co. - High-quality roof top tents and their famous rugged boxes.
BOSS StrongBox - Gear and weapon storage.
Dometic - Fridges/freezers and accessories.
Tembo Tusk - Makes of the famous Skottle. Perfect for cooking just about anything out on the road.
Rago Fabrication - Bed racks, sliders, armor, accessories, and much more.
Keep in touch and let us know if you are ever in the market for something.