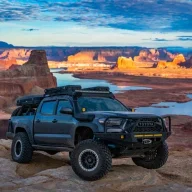 = IV • Gold
RotM Winner
T3G Supporter
Messages

60
Location
First Name

Matt
Military

Marine Corps
T3G Member

#669
Recently picked up an M101A2 military trailer. I'll be building an overland camping trailer, this way I can keep stuff out of the truck and lighten the load. Also it will be easier for me to keep all the camping gear consolidated in the trailer.
The day I brought it home:
First order of business was to get rid of the wood, and remove the tired surge brake system. I had a local welder install a receiver hitch so I can swap out between a pintle hitch lunette ring, and the max coupler I have on order.
Last edited: