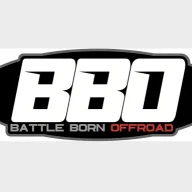 battlebornoffroad.net
Authorized Vendor
T3G Member

#1,075
Messages

182
Reaction score

222
Location
First Name

BattleBorn
Instagram

Its King of the Hammers time, so why not use what the pros use!? We have limited stock on KC Hilites and Rigid light bars with heavy discounts!
All of this will be shipped for FREE to the continental US! Lets just get to pricing and what we have!!
To order, shoot us a PM!
​
KCL276
- FLEX LED 30 IN Bar Combo System 150w (ea) - MSRP $1,365.99 -
SALE PRICE $955
KCL91318
- Pro6 Gravity LED 3-Light Bar - MSRP $897.99 -
SALE PRICE $625
KCL91319
- Pro6 Gravity LED 4-Light Combo Bar - MSRP $1,088.99 -
SALE PRICE $760
RIG110212BLK
- E-SERIES 10 SPOT BLK OPTIC - MSRP $399.99 -
SALE PRICE $280
RIG130112
- 30 E Series - Flood - MSRP $999.99 -
SALE PRICE $695
RIG15231
- 50 E2 Series - Combo (Drive/Hyperspot(tm)) - MSRP $1,799.99 -
SALE PRICE $1,260
RIG33001
- RADIANCE PLUS CURVED 30 IN BLUE BACKLIGHT - MSRP $999.99 -
SALE PRICE $695
RIG33003
- RADIANCE PLUS CURVED 30 IN GREEN BACKLIGHT - MSRP $999.99 -
SALE PRICE $695
RIG35001
- RADIANCE PLUS CURVED 50 IN BLUE BACKLIGHT - MSRP $1,299.99 -
SALE PRICE $905
RIG35002
- RADIANCE PLUS CURVED 50 IN RED BACKLIGHT - MSRP $1,299.99 -
SALE PRICE $905
RIG35003
- RADIANCE PLUS CURVED 50 IN GREEN BACKLIGHT - MSRP $1,299.99 -
SALE PRICE $905
RIG88221
- RDS-Series 20 Spot - MSRP $924.99 -
SALE PRICE $645
RIG88521
- RDS-Series 50 Spot - MSRP $1,999.99 -
SALE PRICE $1400
RIG88621
- RDS-Series 54 Spot - MSRP $2,149.99 -
SALE PRICE $1,505