Messages

38
Reaction score

90
What's up everybody! So this build page will probably become super dead around August this year because I will be starting law school and therefore have my head stuck in a book...That being said, I will try to build this up over the next few months (where my budget allows). I have a book in which I keep all the mods I have done and when and cost and time to complete, which will help with this. Also have a list of everything I want, as of now, with timing on those items. Sooo...be patient and hopefully my truck will turn out how I want it to some time in the future!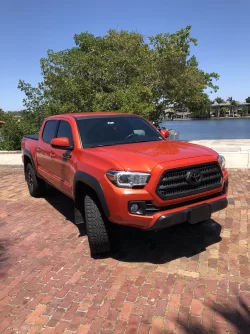 A little update, truck hasn't had any major mods in the last little bit...but I did get new radio knobs and 3D inserts for the glove compartment. Currently waiting on an @C4Fab lo-pro bumper and all the goodies to go with that, as well as an interior overhead rack from @mesojdm.
Patiently waiting for the winter to come in upstate New York....
Here is a pic of my baby as he sits today!
Mods:
Interior -
WeatherTech mats (front and rear)
ResQMe emergency rescue tool
TuffSkinz EVA foam inserts
Custom rear seats dog beds
Me-So Customs drivers side and lower switch panel (yet to be installed)
3D printed glove box inserts in inferno
Me-So Customs interior overhead rack
Exterior -
Me-So Customs Ultimate turn signals v3
Plasti-dip OR grille
Single row LED light bar (using

CaliRaisedLED
mounts)
@micwillia made TRD Off-Road badges
Blacked-out American flag front license plate
@cboy808 custom bedsides
Partial roof wrap
Blacked-out American flag tailgate inserts
Gator Tri-fold tonneau cover
Me-So Customs Gasshole
OEM bed mat
C4 Fab Lo-Pro Bumper (on order)
Wheels/Tires -
4Runner TRD Pro Wheels
Michelin
Other -
@AJTdesgins key fob
Various stickers on rear window (GoPro; Yeti; Skinny Water Culture; anchor; Swell; Salinity; Clarkson U; Syracuse U; Boston Whaler)
Last edited: