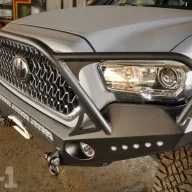 T3G Level: Bronze
Authorized Vendor
Messages

7
First Name

Michael
T3G Member

#3,169
Hey Tacoma3G Members,
ARC One Industries is an emerging Canadian company based on the West Coast. We specialize in high quality armor for newer off road Toyota's including the 3rd Gen Tacoma. Our last year has been spent prototyping and developing our product line, and we're finally ready to start bringing products to market. Our first officially released product is our Phantom One Series Front Bumper (Full). We have three on the way to California, Illinois, and New Mexico this week. While we are Canadian, our proximity to the US border allows us to ship directly from Washington without adding to much to the shipping cost or lead time. Our next product scheduled for release within the next few months will be our Stealth One Series Front Bumper (Half). From there we have a full line of steel skid plates, a winch carrier, and both standard and high clearance rear bumpers planned. We'll be sure to keep everyone up to date with our prototype development, and production releases.
We look forward to working with you guys.