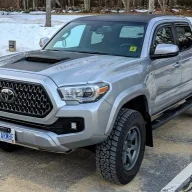 5️⃣ Platinum
Tacoma3G Supporter
Tacoma3G O.G.
T3G Member

#75
Messages

339
Reaction score

471
Location
First Name

Ron
Truck Year

2018
Truck Color

Silver Sky
Truck Grade

Sport
Cab & Bed

Double Cab, Short Bed
Transmission

Automatic
The Entune Premium in my truck (2018 TRD Sport with Entune Premium - Non-JBL) is now starting to piss me off a bit more than it should. I have to restart it every day now to get it to recognize my "iPod" (iPhone 6 with the SIM card removed), as well as my USB drive and Pixel 2. In fact, no radio stations actually came in this morning (I need to check if the antenna wire is pulled).
A couple of items before asking for recommendations:
My ability:
I can solder, and like to.
I have installed head units before
I have all the items needed to do my own install, such as shrink tube, soldering iron, heat gun, solder, work space
I do not want to go to an installer
I have the following items now on the existing OEM head unit:
Moved USB from dash to glove box, split to two usb to accept both the iPod and USB
Beat Sonic CS6EP anytime camera for rear - still has input for front not being used
Arc Audio XDi850.5 connected via own harness
Morel Tempo Ultra 692 wired from amp to crossovers, crossovers to drivers in the front
Morel Tempo Ultra Integra 602 wired from amp back to OEM wiring via harness (see my build, my stereo build has been an ongoing process of evolution) in the rear
Audison APS 10D sub
What I will need to do to existing wiring:
Remove line level wiring to amp and replace with quality RCA
remove front speaker legacy wiring for front speakers (this is from the wiring harness I used to utilize OEM speaker wiring before I went to a component front stage)
Information the brain trust needs to make a recommendation:
How I use my existing set up:
Music: As previously mentioned, I have an "iPod" and a USB drive for music. The iPod has all of my favorite Apple Music downloaded music on it. It's set up to automatically download music that I add on my Pixel 2's Apple Music app. The USB drive is my catalog heavy bands such as the Grateful Dead, Led Zep, Pink Floyd, Dream Theater, etc. I use terrestrial radio sparingly. I do not use SiriusXM at all. I listen to Audible, which is streamed bluetooth via my Pixel 2. I rarely, if EVER, listen to actual CDs.
Navigation: I use Waze on my phone. I do not like the nav package on the OEM head unit. I do not mind Waze being on my phone only.
Other apps that are on the OEM head unit: Meh.
Requirements for new head unit:
5v Pre-Amp outputs
Ability to use existing OEM infrastructure (steering wheel controls, GPS antenna, hands free mic) - I really don't want to fish those wires too, especially a GPS antenna.
Ability to use my camera on demand
Ability to use my existing music storage (iPod, USB) while using an Android phone for bluetooth
Wireless Android Auto - this would be a nice item, but I'm not hung up on complete phone integration. I can do wired Android Auto as well, it's just going to take a little bit of creativity for the wiring, and I'm not sure how confused the head unit would get with me using Android Auto while having an iPod plugged into it....
My budget
$500 - $850
Timeline
I am in no real rush to get this done. I just recently bought a Waverunner, and am not looking to make a big ticket purchase for the truck again until sometime after July.
Caveats:
I'm looking for ideas here. I know there are folks on this board that work in car audio, and can steer me the right way. I am doing my own due diligence as well. The last aftermarket head unit I put in was a Pioneer AVH-X5800BT, and LOVED it, but I was running it with the Waze integration, and everything was from an iPhone.
TL/DR - Looking for recommendations on a new head unit to replace OEM Entune Premium