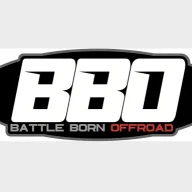 battlebornoffroad.net
T3G Vendor (Onyx)
Messages

164
Location
First Name

BattleBorn
T3G Member

#1,075

The 1996-2004 Toyota Tacoma (Gen.1) and the 1996-2002 Toyota 4Runner (Gen.3) were excellent vehicles off the showroom floor over a decade ago. Toyota's reputation for reliability and performance continues to draw the attention of both hardcore off-road enthusiasts and newcomers to these platforms to this day. The ability to purchase one of these vehicles at a reasonable price and effectively rebuild it with performance-oriented aftermarket components has created a segment in which ICON can truly stand out from the rest. Recognizing this, ICON Vehicle Dynamics is proud to announce the release of our Tubular Steel Delta Joint Upper Control Arm Kit for the Gen.1 Toyota Tacoma and the Gen.3 Toyota 4Runner.
​

Through hours of in-house research and thousands of miles of real world testing, ICON engineers have identified the limiting factors of the OEM upper control arms and developed a kit to address these limits. Like all ICON tubular upper control arms, these are constructed from CNC bent 1026 DOM steel tubing and then powder coated to a semi-gloss black finish for maximum strength and corrosion resistance. These arms are engineered with built-in geometry correction for optimal alignment specifications and increased caster for confidence inspiring handling. The robust two piece steel taper adapter clamps from both sides of the spindle to distribute the extreme forces seen during aggressive off-road driving while providing a precise, OE style fit for the Delta Joint taper pin.

These upper control arms feature ICON's patent pending Delta Joint. The Delta Joint is a heavy duty high angle ball joint that combines the durability of a ball joint with the performance characteristics of a traditional uniball. While the industry standard uniball does a great job of allowing the control arms of a vehicle to articulate with little bind, they do have an inherent weakness that leaves more to be desired when used in a daily driven application - exposure to the elements. The Delta Joint features a zinc plated housing providing the first layer of corrosion resistance, while a tough grease seal keeps potentially harmful elements out of the inner workings of the joint. Metal on metal construction and a greasable design increase the longevity of the Delta Joint while at the same time allowing for noise-free operation. What makes the Delta Joint unique is that it brings the best of both worlds to ICON upper control arms with features that make it more robust than a uniball, and at the same time capable of greater angularity than a typical ball joint.
ICON Vehicle Dynamics products are proudly designed, manufactured, and assembled in Riverside, California by a team of passionate off-road enthusiasts. With a reputation for quality, performance, and service it's clear that ICON Vehicle Dynamics is the top choice for performance suspension systems and shock absorbers for enthusiasts that demand the highest levels of performance, ruggedness, and durability out of their suspension systems.
​
KEY FEATURES
Direct bolt-in design makes for a simple and straightforward installation
Patent pending Delta Joint combines the durability and weather resistance of a ball joint with the performance characteristics of a uniball
CNC machined steel taper adapter
1026 DOM steel construction
CNC bent and notched tubing
Serviceable dual stage bushings
CNC machined bushing housings and sleeves
Built-In caster correction
Black semi-gloss powder coat finish
Delta Joint upper control arms carry ICON's exclusive 5 year limited warranty when used in a complete ICON suspension system
PART# & PRICING
PART #: 58400DJ
MSRP: $839.95
WEIGHT / DIMS: 25 LBS (16" L x 12" W x 8" H)