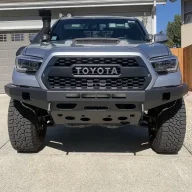 Messages

350
Location
First Name

Adrian
Military

Marine Corps
T3G Member

#3
I wanted more of a heavy duty shock resi as a direct bolt-on so I did some research about it. I found a guy who did a similar setup with King resi's on his 2nd gen with factory leaf pack with 3 leaf Aal and with just over 26 inch long shock. His new setup was king rear shocks for 2007+ Tundras which gave him 10+ inches of travel + custom leaf pack
heres the link to his conversion if you guys had any issues, comments or concerns. i'm doing the same thing. Also going to run fox 2.5 DSC resi's up front too in the near future with possibly Camburg UCA's.
Tundra King shock swap on Tacoma
The reason for this instead of the normal fox resis is because i wanted a heavy duty bolt on without doing any major modifications. I will be running HD Dakars + U Bolt flip kit with this combo. I will then add Extended brake lines shortly thereafter.
I will report back after install.
So its all done. leaf springs are definitely looking a bit more curved now.. I will test them out in Joshua Tree this weekend with the crew...
edit : people are probably wondering what was needed to fit these right? well all i needed was an angle grinder and shaved off about an 1/8th of an inch to be able to fit within the axle leafs.. that was literally the only thing needed to modify this shock body to fit my Tacoma..
Last edited: