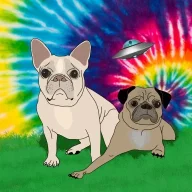 T3G Level: Legendary
Badministrator
T3G O.G.
Messages

4,884
Location
First Name

Tyler
Military

Marine Corps (Vet.)
T3G Member

#1
One of the most important things about any forum is the structure in which topics are organized. Other forums often have a long list of categories you can post in, which becomes confusing and the content starts to spread too thin. I have always tried to maintain the most straightforward and organized approach to this that I can, according to the amount of activity that we have. As we grow and I learn what works and doesn't, I do make revisions to the structure that I use at T3G.
One of the more recent changes was the addition of the overland / camping gear section. I like that section a lot and I don't regret adding it. However, one section I have never been happy with is the lighting / electrical / audio / comm section we had. So I've decided to combine most of these topics into one section: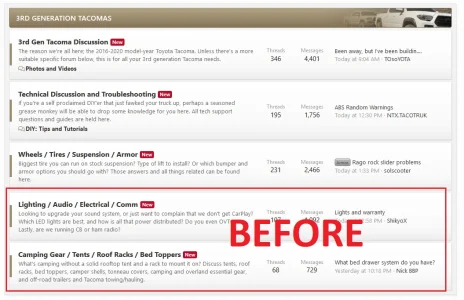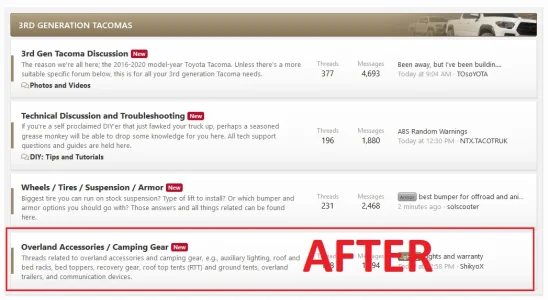 The overland section had its name slightly modified and now hosts discussions for auxiliary lighting and communication options. Discussions about audio, which are much less common, are now in the general 3rd gen section. To make things even more organized, you will see thread prefixes (not done yet) within these sections that categorize each specific thread (e.g., lighting, comm, bed toppers, audio, etc.).
Revising our forum structure is a work in progress and nothing major will ever occur, so you don't have to be worried if you feel comfortable with the way things are. In fact, I bet if I didn't make this thread most people probably wouldn't notice the difference. I just like to make threads about changes so they are documented for my own purposes. And then those who are interesting in watching T3G develop over the years can stay informed.