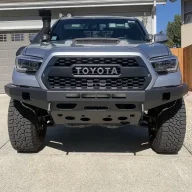 7️⃣ Connoisseur
Tacoma3G O.G.
T3G Member

#3
Messages

370
Reaction score

1,551
Location
First Name

Adrian
Instagram
2017 Silver Sky Off-Road Double Cab, Long Bed Automatic
​
Update people. Driver side is in. Took me 3 hours with the help of a friend, plus I power washed everything before going to town on the fender well..​
​
So my take take on this is that since I have Remote Reservoirs you're gonna need to cut the front portion that sticks out... well I cut it out because it wasn't going to fit behind my Reservoir. It was such a PAIN in the ASS to do it myself.. I had a friend help mock it up everytime because we had to ensure the holes were in the right place prior to drilling. On the front portion, I had to cut a HUGE slit to have it fit in between the BODY mount because that's as far it will be covering down on mine anyway. I will be converting to a T3 CBI front bumper in the future so that little gap you see on the bottom isn't gonna be such of a big deal.. also on the inner portion of the fender liner where it anchors to the little mount, well.. I had to trim about a 1/4 of an inch to be able to have it line up just right with my outside fender and keep it all snug with my bumper.. over all, I wish it came with pre drilled holes so it would've been an easier install. This product is EXTREMELY functional and I will be putting the passenger side on another day.​
​
​
Keep your old fender liners and place it the fend-x liner on the bottom, then place your old fender liner on top so you can have a template for where to drill your pilot holes. Keep a square file too, because you're gonna have to square the holes out in order to line up with the fender. I put about 6 of the plastic fasteners and screws in from the kit that I purchased with the fendx. I'm planning on doing the same thing to the passenger side as well. I hope this helps a bit. Definitely gonna go 35's now for sure.​
​
...these things are fucking awesome.​
​
​
if you want to order a set, hit up Geartechcustoms.com​
​
​
Let me know if you guys have any further questions.​
​