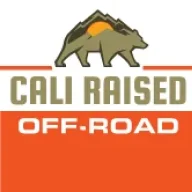 ✓ • Bronze
Authorized Vendor
Tacoma3G O.G.
Messages

4
Upvotes Recieved

11
T3G Member

#29
Hello Everyone!
We are excited to finally be joining the Tacoma3g.com Community! Just wanted to introduce ourselves to everyone here and create a space on the forum for us to communicate with our passed, current, and future customers!
There has been a lot of confusion this year between us and Cali Raised LED, and we wanted to clarify this for everyone. We are two separate companies both started originally by Blake at Cali Raised LED. A year ago, when Cali Raised LED began their move to Texas, we purchased the "Cali Raised Offroad" name from them as well as took over their buildings here in Buena Park, CA.
We are still a Premier Dealer for ALL of their products and keep 90% of their stuff in stock here in SoCal.
The business for us began in March last year when we began offering install on all of Cali Raised LED's products. We quickly realized that there wasn't really a 1-Stop shop for Overland builds and began to reach out to other vendors to expand our offerings.
We now offer a multitude of brands and offer install on EVERYTHING we carry!
Meso Customs
Baja Designs
KC Hilites
Rigid Industries
Switch Pros
King Shocks
Fox Shocks
Icon Vehicle Dynamics
Timbren Off Road
Buggy Whips
RLD Design USA
Mountain Hatch
Prinsu Designs
CBI Offroad
Free Spirit Recreation
CVT Tents
AlphaRex
Front Runner
Smittybilt
NSV Lights and Compressors
And MANY MORE!
We are a family business owned by my father and I. When coming into our shop you will see many of our products on display, my wife answering phones, my mom doing our accounting and my 5 Year Old daughter trying her best to show you around!! (Assuming she isn't at school lol) We here to help you build your rig no matter how big or small. We are your one stop shop for suspension, wheels, tires, electrical, lighting, racks, tents, camping gear and recovery equipment.
Please feel free to give us a call or shoot us an email at any time!
Office: 714-576-7120
Text us: 714-477-7497
Email:
Sales@CaliRaisedOffroad.com
Showroom/Shop:
Cali Raised Offroad
8581 Roland St. Unit A.
Buena Park, CA 90621
Have a great day!
Jake Mottram
President
Cali Raised Offroad
Cell: 714-422-6539
JakeM@CaliRaisedOffroad.com