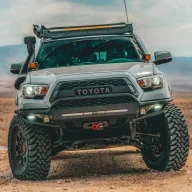 7️⃣ Connoisseur
Tacoma3G Supporter
Tacoma3G O.G.
T3G Member

#15
Messages

821
Reaction score

1,437
Instagram
2017 Cement Pro Double Cab, Short Bed Automatic
I'm interested In changing the color of my wheels and was wondering if anyone had experience doing this with the TRDPro wheels.
I think they look great and if I could change them to a matte bronze they would look even better!
Maybe something like this but a little darker. Best I could do from my phone