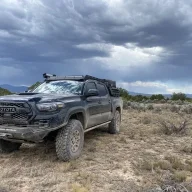 6️⃣ Aficionado
Tacoma3G Supporter
Tacoma3G O.G.
T3G Member

#2,889
Messages

435
Reaction score

528
First Name

Vincent
Instagram
2018 Midnight Black Pro Double Cab, Short Bed Automatic
Hey all!

Just wanted to introduce myself. I'm in my first Tacoma, a 2018 Pro, after driving a Tundra for 3-4 years... that was quite a boat to drive around. I'm a long way from doing any mods to my truck at the moment, but I just wanted to join this community I found through reddit to keep my eyes out on future mods and learn about something completely new to me.

I'm in the North Texas area and want to outfit my truck into an overlanding rig to take trips around the area and further out. I'm also trying to find a good balance of off road capability and unfortunately, driving on pavement 80-90% of the time. I can only afford to go on a couple trips a year since there's not as much trails around as some of you all might have, at least that I can find. My goal is to get out to Colorado and Utah for a trip next year to celebrate the big three-oh with my wife and doggo.

Anyways, cheers to this awesome community!