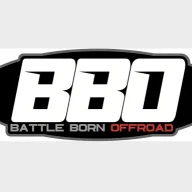 battlebornoffroad.net
T3G Vendor (Onyx)
Messages

164
Location
First Name

BattleBorn
T3G Member

#1,075
is in stock at Battle Born Offroad..
INFO@BattleBornOffroad.net
BLACK FRIDAY EARLY BIRD SPECIAL ON ALL PEDAL COMMANDERS!
Pedal Commander is the world's most advanced throttle controller. It eliminates the response delays from your electronic accelerator pedal, allowing your engine to respond faster and resulting in much faster acceleration.
Have you ever noticed that older cars were more responsive and quicker to take off? That's because older cars were all mechanical, which means everything happened instantaneous. Nowadays, cars have ECUs (Electronic Control Units) which require signals to be sent to the computers in your car, resulting in response delays.
The Pedal Commander solves the problem and gets rid of that delay!
The Pedal Commander has 4 different control modes: Eco, City, Sport, and Sport+. Each control mode has an additional 8 modes to further adjust the sensitivity to your liking. These 36 different parameters is what makes us the best throttle response controller on the market. Our unit is also programmable according to your desire of your cars specifications and is now bluetooth compatible for easy usage using your smart phone.
We have a big inventory of all Pedal Commanders, ready to ship ASAP!!

Most are IN STOCK and ready to ship!!
Click links below to buy yours today!
Includes free shipping and no tax outside Nevada
5th Gen 4Runner PC27 -
Click Here To Purchase
4th Gen 4Runner PC38 -
Click Here To Purchase
2nd/3rd Gen Tacoma PC38 -
Click Here To Purchase
2nd/3rd Gen Tundra PC27 -
Click Here To Purchase
1st Gen Tundra PC38 -
Click Here To Purchase
GB Dates: Sales ends on 12/3
Discount Amount: This discount is the same as Black Friday Pricing!
Product Lead Time: MOST products listed above are IN STOCK! Ships in 24-48hrs
Shipping cost: Free freight to the continental USA, email for elsewhere
​
Need help locating a part? PM us - lets talk Pedal Commander
BATTLE BORN OFFROAD
FACEBOOK | INSTAGRAM | EMAIL
​