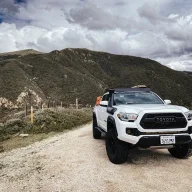 4️⃣ Gold
Tacoma3G Supporter
Tacoma3G O.G.
T3G Member

#1,015
Messages

139
Reaction score

212
First Name

Jeff
Instagram
Hey guys wanted to see what everyone was doing to get the max volts to charge their AGM batteries.

I have done some searching on TW/google and it sounds like us guys with the 3rd gens don't have a way to boost our alternator voltage to charge AGMs. I will be putting a group 31 in my rig over the next few weeks and already own a battery charger that supports AGMs. But I would like to do something more than just hooking it up to the charger every month or so..

For reference the Odyssey AGM batteries needs anywhere from 14.1-14.7 volts, while our rigs output range maxes at 13.8v. Unlike the 2nd gen rigs that have an ALT-S fuse which you can place a diode to boost the volts our 3rd gens are ECU controlled.