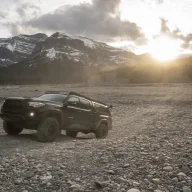 Messages

51
Reaction score

64
Location
First Name

Genna
Truck Year

2017
Truck Color

Midnight Black
Truck Grade

Sport
Cab & Bed

Double Cab, Long Bed
Transmission

Automatic
T3G Member

#977
2018 has been great for my truck...perhaps not for my bank account lol.

Added:
-Canopy
-Full prinsu (cab and canopy)
-Steel bolt on sliders
-Tepui awnings (2x5')
-Method NV 16" Wheels
- 265/75/R16 E rated K02's
(usually load it up with mtb, surfboards, gear etc)

With the addition of the canopy and sliders I noticed the truck doesn't drive quite as smooth (shifting and not as much pep when you punch it.) I understand the weight is going to have this effect on my gas milage, shifting etc (I expected that). What I am wondering is if it is time to upgrade to the nitro 4.88 gears or if that would be overkill.

I have hear of a few guys doing the 4.88 gears and the OV tune and having a good result with drivability and gas milage. Just wondering as I also have to drive a lot of highway km with this beauty.

Advice, opinions?