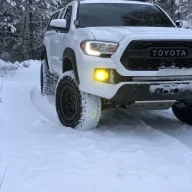 = VI • Diamond
T3G Supporter
T3G O.G.
Messages

408
Location
First Name

Brent
Military

Navy
T3G Member

#4
Just wanted to start a thread that is geared towards fellow access cab owners, a good place to discuss mods for access cabs and all that good stuff.
Looking at jumping into a prinsu rack soon. Have not witnessed many 3rd gen access's with the rack.
Post pics and mods of stuff like that so other guys can get inspiration.