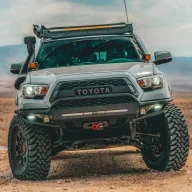 7️⃣ Connoisseur
Tacoma3G Supporter
Tacoma3G O.G.
T3G Member

#15
Messages

821
Reaction score

1,440
Truck Year

2017
Truck Color

Cement
Truck Grade

Pro
Cab & Bed

Double Cab, Short Bed
Transmission

Automatic
Instagram
I just wanted to take a moment and give everyone an update on tomorrows meetup at Cleghorn OHV trail.
I have done quite a bit of research regarding the fires and their progression in the area. Although yes, they are close, they should not impact our meet at the OHV trail. I have scanned the fire reports, road closures, delay times, lane closures, and park information on any fire roads and everything is clear to go. Cleghorn OHV road 2N47 marker is updated as open. There are reported fires 10+ miles south at the I-15/215 merge which is a fair amount of distance from the trail head. At current time of 1508 there are only 15-20 minute delays, which is more than likely just LA traffic delays.

All this being said I would like to express that it is at your discretion if you would like to join us on this meetup. We will still be holding the meetup at the trailhead at 0900, Saturday July 7th. We understand if you do not feel like making the trip because of these changes in the area, but we all hope to see you out there as this will be a great time to get to know each other and have some fun on the trail!
Last edited: