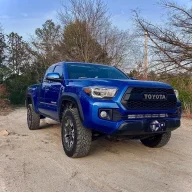 T3G Member

#9,729
Messages

333
Reaction score

729
Age

19
Location
First Name

Zach
Instagram
2017 Blazing Blue Pearl Off-Road Access Cab Automatic
(Build Thread)
Feel like I've been answering these questions a bit too much, so I'm making this so myself and other people can show others and same time
1. How long does a Tacoma last?
Toyota says around 300K miles, or up to roughly 11-12 years. I say that's wrong. I know somebody with a 2016, bought it brand new with like 4 miles, who's about to break 400K miles and it runs just like when he got it! It all depends how you treat your Taco and how well you take care of it.
2. What are the common Tacoma issues?
Personally, I can't really find any common mechanical issues. However, depending on where you live of course, the most common issue I see up here in New England is frame rust. I know they did a recall on most 3rd gens and got it fixed, but as long as you clean and take care of it you shouldn't ever have any issues!
3. What's the difference between and SR and a TRD?
I've explained the difference between the different Tacoma's
here in this thread
and the question about 4x4 Emblems too! Before you ask what TRD stands for, it is short for Toyota Racing Development, and SR means Sport Rally, SR5 means Sport Rally 5 Speed.
4. Why should I buy a Tacoma? Which one should I buy?
A 2 in 1 question here. Easy answers. First part, you should buy a Tacoma because they're just more reliable than other trucks. They are a great truck for a great price, and you can join this amazing Taco community too! It can be a great daily, and/or a great off road truck too! For the second part, that's really up to your price range and what you prefer. I honestly prefer the TRD Sport or Off Road. They are basically the same, just slightly different stock options.
5. How fast can a Tacoma go?
Well... for legal reasons, I "cannot confirm" that a stock Tacoma tops out at around 112-115 due to the vehicle governor. For a truck, these things are pretty quick and have some "get up and go" to them for sure!
6. What mods can I do to a Tacoma?
Oh boy... The things you can do to mod or upgrade a Tacoma and make it look 10 times better are endless! From anywhere to lightbars, pods, lifts, wheels, roof racks, etc. Most commonly I see done to Tacoma's are roof racks with lights, bumper light bar, new bumpers, 2" lift, bigger and nicer wheels, ditch lights, new headlight assemblies, and tail lights. Check out people's build threads on here to get a good look at some really nice builds to get yourself an idea of what you would want!
Please, if you have anymore questions feel free to ask here! Anytime I update this list I will bump the thread too in case people have had a question in the back of their minds and just haven't asked or something
I really hope all this information I have provided is useful, I mainly got the facts and knowledge I know from my friend who's actually a Toyota technician and online.