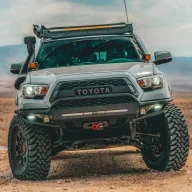 = VII • Aficionado
T3G Supporter
T3G O.G.
Messages

821
Military

Navy
T3G Member

#15
Hey everyone,
We have officially hit the 12K mark on instagram! Being that this is another milestone for us, we would like to extend our next giveaway to you!
This giveaway will be an instagram giveaway for a set of (2) Tact.Ilian US Flag Magnets for your vehicle. Please visit our recent post on Instagram to enter in the giveaway.
RULES:
Following on instagram:
Tacoma3G
and
@Tact.ilian
Entries:
Tag your friends!
More friends tagged = more entries in the giveaway.
The winner will be announced on Nov 9th, 2018.
Thank you ALL!!
Malcolm
T3G