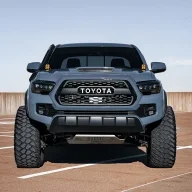 Messages

3
Upvotes Recieved

2
Location
First Name

Cole
Truck Year

2018
Truck Color

Cavalry Blue
Truck Grade

Pro
Cab & Bed

Double Cab, Short Bed
Transmission

Automatic
T3G Member

#8,704
How are things going guys! Just picked up this fresh 2018 tacoma and diving straight into modifications and Overlanding! I already did a full build on a 2018 4runner but very much needed a truck. (and the capabilities of the taco are incredibly improved)
If anybody is interested in sharing what they would do first?
My thoughts are similar to this.....
-Regear
-6inch BDS (already have a 3.5 or whatever is on there) not sure if this is the best option?
-hardcover rooftop tent? Not sure about the brand but kinda liked the look of the Go Fast Tents
-(maybe a set of show wheels and tires) don't tell any die-hard overlanders/offroaders tho haha.