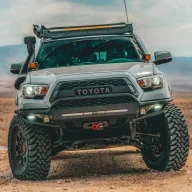 7️⃣ Connoisseur
Tacoma3G Supporter
Tacoma3G O.G.
T3G Member

#15
Messages

821
Reaction score

1,439
Instagram
2017 Cement Pro Double Cab, Short Bed Automatic
I'll start this build off with a quick intro. Protaco17 On IG US Navy residing in sunny San Diego. I always dreamed of owning a Tacoma, almost ever since the 1st gens. I loved the versatility of the Tacoma mixed with the proper amount of power, towing capacity, and longevity the vehicle provides. What could be better than a truck getting 300k miles with very low maintenance overhead? Nothing really... that is unless you dump money into it to crawl on trails with your boys.
I really had one concept and mission for this build and that was to provide myself with enough clearance to get over most trails besides Jeep trails and camping, so instantly I knew what I wanted to do with this truck!
After researching Tacoma's while on a lovely deployment to the Middle East, I decided to go with the TRD Pro model, there were a lot of factors that weighed into this. I knew the TRD pro already came with an additional inch of clearance, crawl control, and leather which is nice and easy to clean. There had also been 4 pros in my area that were not selling worth a damn so I took it as a strategic advantage when dealing with a salesman.
I picked my TRD Pro up for 45k out the door cash paid and done. They even threw in extended warranties, security, and a whole bunch of others at me for no additional cost (I checked trust me), so now all I had to do was worry about what I wanted to throw into the truck.
Parts so far:
Smittybilt Overlander RTT
RCI bed rack
2" front spacer.
2" rear AAL
Morimoto HID kit
COMING SOON:
DO front bumper
Smittybilt 10k winch
DO sliders
Rear bumper with swing out
Shackle flip
UCA's
So here's my reasoning for what I've done so far because I'm sure some people feel negatively about how I went about my suspension.
The pro came with fox's and good ones at that (really good). I didn't buy the pro to instantly dump 2k into suspension even though I want that long travel. I wanted a reasonable upgrade, so I went with a 2" coilover spacer.
Now I am not one to baby my truck/vehicles and those on here who have met me know this about me. Some of you may say "a spacer will ruin your ride" well it really had no effect on ride quality and ran the same as factory. You may also say "you'll blow out your suspension because of reduced travel" well I wheel every weekend and have dealt with spacer lifts in the past and that has yet to happen.
Realistically the front spacer was the most cost effective bang for my buck to get more clearance, which was the ultimate goal.
Next came some new tires, since the factory 265's we're not cutting it as an "all-terrain" tire as they claim.
So I went with the BFGoodrich all terrain KO2's as they've had a long track record of being a good E-rated A/T tire. I threw 285/75r 16's on the taco and called it a day.
Before I had done the front spacer and tires I had been on San Clemente island for a training exercise and purchased the Smittybilt Overlander RTT and RCI short bed rack, and they had finally came in after about 3 weeks of patiently waiting and just in time for my 6 day truck across the eastern side of California ending in Lake Tahoe. So I threw them on ASAP, literally the day before I left.
And then some X-bull traction boards.
As you can see by the above image on my way to Lake Tahoe I have a stupid Cali lean, and that just wasn't gonna fly, so some times after I got back, I bought a rear AAL. I really was not expecting the rear leaf pack to settle that much with the added weight from the rack, tent, and gear I take with my, but that's how it went.
Installing the Rear AAL was a breeze and leveled the truck perfectly allowing me to keep my tent on all the time now.
We did have a jack stand malfunction and almost completely drop my passenger side and pumpkin into the concrete, my heart sank but sure enough corrected the situation without skipping a beat, resulting her to sit pretty and level!
I'll add more to this page as I get the rest of my parts.