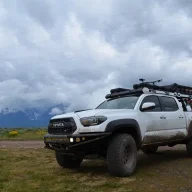 ✓ • Bronze
Authorized Vendor
Messages

27
Reaction score

26
Location
First Name

Drew
Truck Year

2017
Truck Color

Super White
Truck Grade

Off-Road
Cab & Bed

Double Cab, Short Bed
Transmission

Automatic
T3G Member

#4,586
Life changes and the time has come to put my beloved Tacoma up for sale. I have been at upTOP Overland as the Sales and Marketing Manager since Day 1 and this truck has been professionally built by our team and several other partners and reputable shops in the Denver area.
The truck is a 2017 Toyota Tacoma, TRD Off Road w/ Premium and Technology package. At the time of this posting the truck has 108,1XX miles on the truck which will accumulate roughly 200 miles per week until the time it is sold.
This truck is truly a turnkey build with full racks, lighting, suspension, on-board air, premium wheels and tires and much more. I will highlight the main build features below, but I will also attach a full spread sheet of the mods, their cost and a link to the item installed.
PLEASE CONTACT ME VIA EMAIL AT
DREW@UPTOPOVERLAND.COM


Specifications:
· 2017 Toyota Tacoma TRD Off Road
· Double Cab, 5ft. Bed
· Super White (040), Partial Wrap on Bed and Tailgate
· Loaded Premium and Tech Package w/ Black Cloth interior
· 107,XXX miles
Drivetrain and Suspension:
· 3.5L V6
· K&N Cold Air Intake
· Custom Drive Shaft with Thicker Wall Tubing
· Nitro 5.29 Gears
· Dirt King Performance LCAs w/ Ball Joint
· Dirt King Boxed UCAs w/ Heims and Uniball
· Icon CDCV Front Coilovers (Rebuilt @ 87,000 miles)
· Archive Garage Rear Shock Relocation
· Fox Factory 12" x 2.5" with Remote Resi and DSC (Rebuilt @ 87,000 miles)
·
BAMF
Hammer Hangers with Heavy Duty Shackles
· Icon RXT Leaf Pack (Stage 3)
Wheels and Tires:
· Ray Relations Wheels 17" RR6-H with Faux Bead (5)
· BFG KO2, Load Range C, 37 x 12.5 x R17, 11/32nds Tread, Rotated every 5,000 miles
Armor and Recovery:
· Custom Low Profile Tube Front Bumper built by Altitude Offroad in Castle Rock, CO
· TRD Pro Aluminum Skid, Painted Black
· BAMF High Clearance Rear Bumper, Swingout Ready,
Swingouts NOT INCLUDED
· ARB 20K Snatch Strap
· ARB Shackles (x2)
Rack and Lighting:
· upTOP Overland Alpha Double Cab Rack w/ Bronze grooveTEK
· upTOP Overland Alpha eX Rack w/ Bronze grooveTEK
· upTOP Overland Full Height TRUSS
· upTOP UTM w/ 4 Rock Lights for Bed Lighting
·
Baja Designs
XL Linkable X7 (Roof Rack)
· Baja Designs Rock Lights w/ upTOP scenePODS (x12) (Roof Rack)
· Baja Designs S2 Pro Flush Mount (Roof Rack)
· Baja Designs RTL (Roof Rack)
· Baja Designs ONX6 30" (Bumper)
· Baja Designs Squadron Sport – FOG LIGHTS (Bumper)
· Baja Designs Squadron Pro (Bumper)
· Baja Designs S1 (Bumper)
· Alpharex LED Headlights
Additional Equipment and Features:
· Toyota TRD Sport Hood
· Toyota TRD Pro Grill
· 23Zero Breezeway 62 Tent
· 23Zero Peregrine 180R Awning
· 1 Pair – Maxtrax
· Fiskars Hatchet
· Krazy Beaver Murder Spork (Shovel)
· 1UP USA Bike Rack on upTOP BR Bike Mounts
· upTOP Secure – All Locks keyed alike
· Custom upTOP airUP with dual Viair compressors with distribution front and rear to air all 4 tires simultaneously. 18psi to 38psi in 37" tires in less than 5 minutes.
· Power Trays Setup with Blue Seas Aux Fuse Block
· Group 27F AGM Battery
· sPOD Bantam w/ Touchscreen
·
Midland MXT275
(2 Antennas)
·
Scanguage II
· Toyota OEM Bed Mat
· Custom upTOP Drawer system. Full aluminum structure, 500lb. slides, moveable dividers, color matched to truck/racks
· Tembo Tusk Jumbo Fridge Slide
· Custom In-Bed Auxillary Power with Switches for Bed and Tent Lighting
·
Marlin Crawler
LCA Cam Tab Braces
· Lil B's Fab Cab Mount Relocations
· Custom Trimmed Fenders w/ Custom Trimmed Bushwhackers
· Backup Camera Relocated to Bumper
· Power Locking Tailgate
Additional Notes:
· Truck Drives Straight and is mechanically sound with no mechanical issues to report.
· Minor cosmetic damage include chips in hood, small crack in paint near driver door handle, small tears in wrap on bed and tailgate.
· Well taken care of and fluid filmed once per year, rust free other than small patches of surface rust.
· Truck was involved in a minor accident earlier this year. Cosmetic front end damage affected the grill, grill surround and hood all of which were replaced with OEM Toyota parts.
· Truck was also struck by minor hail in September which has been 100% corrected with PDR
· 2 Keys and all owner manuals included
KBB Value At The Time This Post Was Published: $27,708 - $30,847
Equipment Replacement Value Added to Vehicle NOT Including Labor Costs: $27K+
For Sale: $50,000 OBO
(not interested in trades)
Thanks for looking!